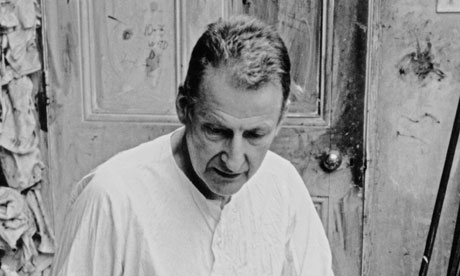 … Lucian Freud's only feature length conversation/interview. Here.
Omnibus Lucian Freud
This was my first full length documentary, and it is provided here via the iPlayer service. Therefore it is only available in the UK (but I have heard that a VPN might prove useful to those elsewhere).
This is a filmed conversation with Lucian Freud recorded at the time of his exhibition at the Hayward Gallery in 1988. We are both nervous… me because it is my first "proper" film and Lucian because, very sensibly, he is aware that everything he says is going down on record.
Initially this was a short magazine piece for the BBC's Review… and was only supposed to be a fly-on-the-wall look at the hanging of the show with the curator, Catherine Lampert, my father, Frank, and Lucian. But I started asking a few questions and Lucian was happy to respond.
The piece went down well and the BBC wanted a longer film. Lucian suggested further filming, which took place during two early (6.30AM) sessions at the gallery and were followed on each occasion by breakfast at the Quality Chop House in Farringdon Road (it is also a location in Sickert's London)… which looked similar to today, if a little dirtier, but was at that time a cafe for the Royal Mail sorting staff from across the road. It served great porridge and had fresh kippers straight from the first train down from Scotland, which arrived at Kings Cross station at 5.45 each morning.